The solution to all your engineering problems
Spindle reconditioning

What are spindles used for:

•Grinding
•Milling
•Turning
•Routing
•Drilling
•Polishing


Which Industries:

•Engineering
•Woodworking
•Glass
•Printed Circuit Board
Reasons for failure:

•Contamination -Cutting fluid/component swarf or both get into spindle
•Crash - Operator runs spindle into job or machine too fast
•Component failure - Sub-standard part fitted in spindle.
•Eg: Bearing Failure
•Old Age - Spindle simply wears out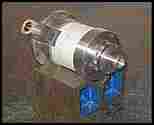 Reconditioned Motorised Spindle
Questions:

•Do you have spindle failures?
•Do you send spindles out for repair?
•Do you have premature spindle failures?
And more ...
With considerable expertise and experience over many disciplines we can offer help and assistance with:-


•IMPROVEMENT PROJECTS
•MAINTENANCE PROBLEMS
•PROJECT MANAGEMENT
•PRODUCT SELECTION


If you can't find what you are looking for above and it relates to Engineering Products or Services call or email us your problem and we will do our best to solve it!